10000Birds.com Article on Wild Monk Parakeets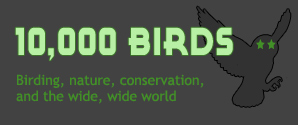 Charlie Moores, one of the principle contributors to the wonderful birding, conservation, and nature site 10,000Birds.com, invited me to share my views on the wild Monk Parakeets (AKA Quaker Parrots) of Brooklyn as part of the site's "Parrot Month."
The interview is now live
, and I'm very grateful to the folks at 10,000Birds.com for gathering my input for the site's series of articles on parrots. 10,000Birds.com has additional information on wild monk parakeets
here
.
Labels: BrooklynParrots.com, Media Mentions, Monk Parakeets, Quaker Parrots